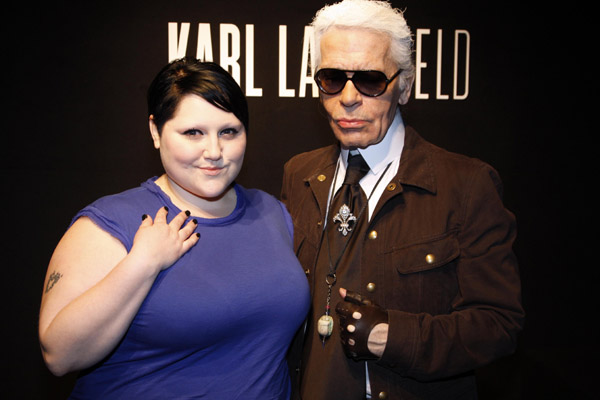 Karl Lagerfeld hasn't been allowed to live down those comments he said about Adele's weight. After the interview went out, the comments were constantly the subject of conversation and now they are back in the spotlight as Beth Ditto weighed in on the issue in a recent interview with the Evening Standard:
I don't think Adele would deny that she was fat. And I bet she doesn't. Karl Lagerfeld used to be fat himself, so you gotta think about that. He's obviously not proud of that fact. I also think that people give him way too much power! He's just an eccentric designer who makes amazing art but doesn't always say the coolest shit.

And…the way I feel about Adele is, I doubt, and I hope, and I'm pretty confident, that she does not think about Karl Lagerfeld, ever. I bet that is the last thing on her mind at night. She's falling asleep on her 85 Grammys and however many millions of albums she's sold and however many millions of pounds that she has, and is just probably thinking, like, "You know what – all right!
Ditto herself has been the subject of criticisms about her weight in the past but like Adele, her uncompromising confidence has won her a legion of fans and rightly so. As Katie Grand put it, she quickly became the 'accidential size hero for the size zero' and 'a generational icon, confouncing the tedious stereotypes of what it is to be a wonderful 21st-century woman.'