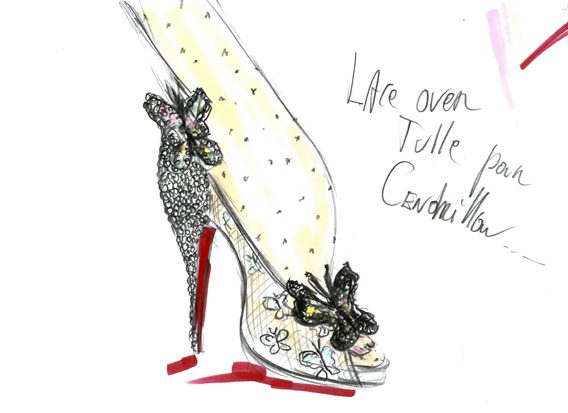 Over the past few months there's been a lot of surprise partnerships. The first was that Narciso Rodriguez is partnering with Kohl's shortly followed by the announcement that Maison Martin Margiela will serve as the next fashion house to collaborate with H&M. Christian Louboutin's latest partnership, on the other hand, is one that makes sense.
This morning the brand confirmed that the designer has created the ultimate, modern-day Cinderella inspired slipper in partnership with Disney. 'Cinderella is not only an iconic character when it comes to beauty, grace and fairytale love, but also shoes,' he explained and if there's anyone that tap into the fantasy of the film and create a statement shoe, it's him.
His version of the iconic shoe comes in delicate lace covered in crystals and with two sparking butterflies, one on the ankle and the other on the vamp. 'Her character and her story dictated the design to me,' Louboutin explained when asked about the inspiration behind the design. 'It was all there in the pages and the words of this tale.
Are you a fan?

There are 0 photos in this gallery