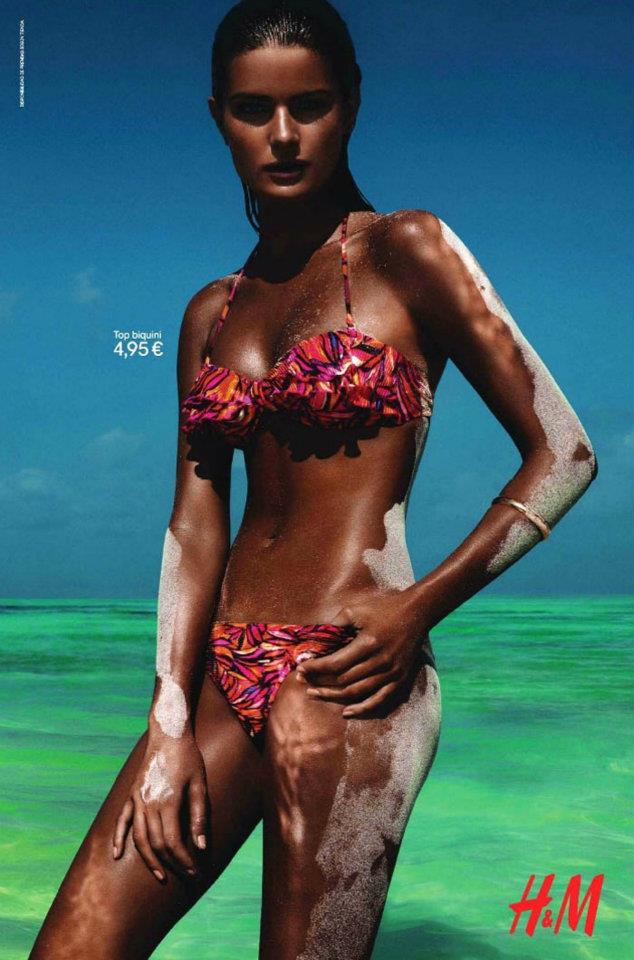 When I posted this image on our Facebook page one of my readers commented that, 'the colours are amazing but her tan looks a bit too dark. Worrying!' It seems she wasn't the only person concerned about the retailer's Isabeli Fontana-fronted swimwear campaign.

'We are sorry if we have upset anyone with our latest swimwear campaign,' a spokesperson said in a statement today. 'It was not our intention to show off a specific ideal or to encourage dangerous behaviour, but was instead to show off our latest summer collection. We have taken note of the views and will continue to discuss this internally ahead of future campaigns.'
The apology came after the Swedish Cancer Society criticised the ads for encouraging unsafe tanning. 'The clothing giant is creating, not least among young people, a beauty ideal that is deadly,' the society told a Swedish society. 'Every year, more people die in Sweden of (skin cancer) than in traffic accidents, and the main cause is too much sunning. Regardless of how the H&M model got her tan, through sunning or a computer programme, the effect is the same: H&M tells us we should be very tan on the beach.'
Thoughts?