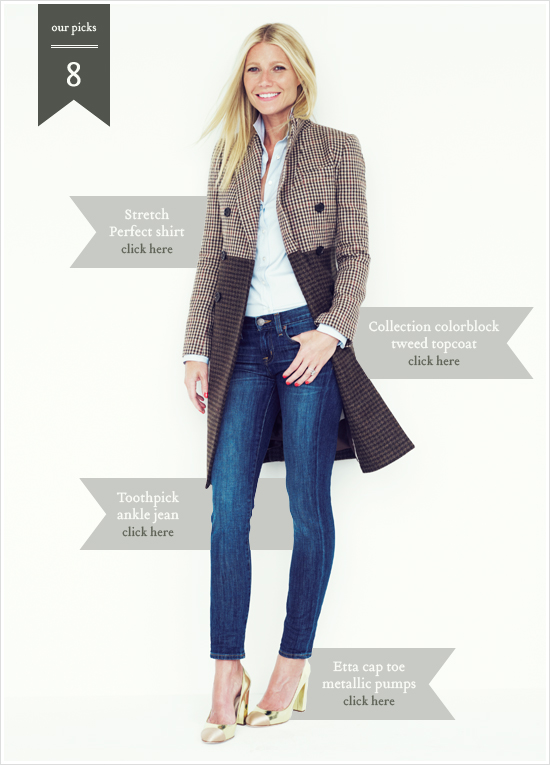 J. Crew is one of the few middle of the road retailers that steers clear of celebrities and that's, in part, one of the reasons I like it so much. On the odd occassion that the group does work with them, it always makes sense. Last month its sister brand, Madewell, confirmed Solange Knowles as the face of its A/W12 campaign, which is undoubtedly a match made in heaven and now J. Crew have nailed it too by working with Gwyneth Paltrow.
The actress appeared in an eight-look editorial for her site Goop last week wearing head-to-toe J.Crew and ever since then, the traffic on jcrew.com has jumped significantly. 'Eight percent of all of our traffic since we launched with Gwyneth is being driven by Goop,' a J. Crew spokeswoman told WWD. 'That's amazing.'
Am I surprised? Well no. As much as Gwynnie is known for her glamorous red carpet looks, she's also the queen of preppy staples so the partnership makes sense. 'The team here has always been fans of Gwyneth's personal style,' J. Crew president Jenna Lyons said. 'She has a relaxed ease and a natural sexiness, Goop is a frequent online stop for me…Cool style. Cool site.' Considering how well the partnership has gone, something tells me this isn't the end of the pair working together. Clearly sales are up and since J. Crew aren't particularly fond of working with celebrities, it seems likely that now they have decided to embrace it they'll stick with one person.
What do you think?
There are 0 photos in this gallery