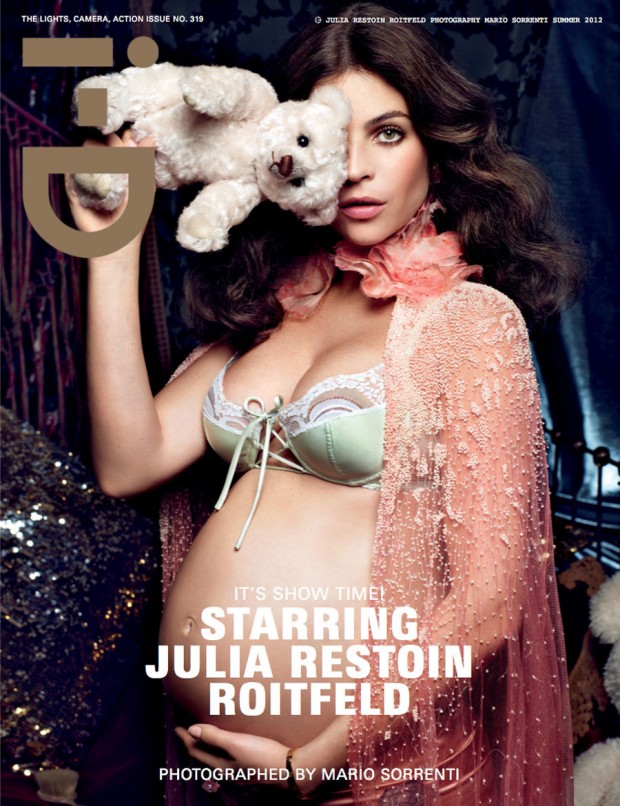 Julia Restoin-Roifeld showed off her growing baby bump recently on the red carpet at the Chanel Artist's Dinner during the Tribeca Film Festival but for the latest issue of i-D she unveiled it in all it's glory.
Unlike the current penchant for celebrities to do that now cliche naked pregnancy shot, Julia's is actually really good and she has her mother Carine Roitfeld to thank. Rather than going nude, the former Vogue Paris editor styled her in a sheer Alexander McQueen and olive coloured bra. 'Pregnancy's a moment in a woman's life when it's really important to feel seductive,' she told the magazine. 'I loved that my mum dressed me sexy like that.'
As far as her style is concerned, being pregnant hasn't changed anything. 'I still dress how I used to dress and sometimes people look at me weird on the street, as if because I'm pregnant I stop being a woman,' she continued. 'That's really something I want to make a point of: that I'm going to be a mother but I'm still a woman, I still want to feel good about myself and feel pretty.'
Are you a fan of her cover?