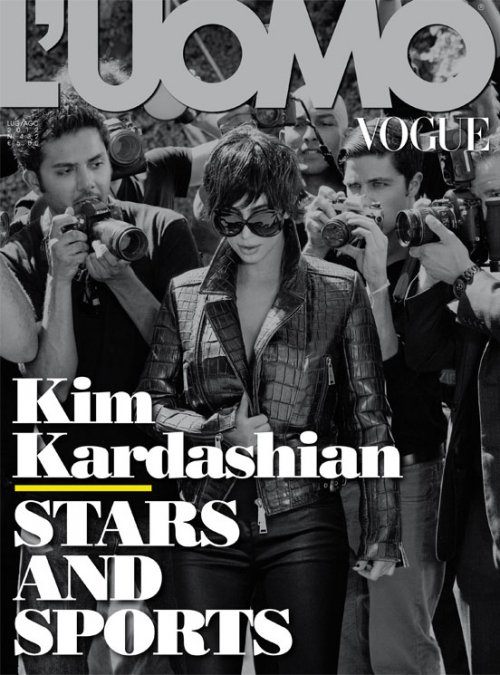 Back in May Franca Sozaani confirmed that Kim Kardashian would cover the July/August issue of L'Uomo Vogue, rather than Vogue Italia as many initially thought, and today the issue has finally dropped.
As previously reported, the black-and-white cover was shot by Sozzani's son, Francesco Carrozini in LA's Chinatown and styled by the magazine's fashion editor, Rushka Bergman. The editorial, titled 'Just Unconventional', is different from all of her past magazine shoots (and she uncannily looks lie her mother Kris) but still, I'm not convinced.
While the accompanying editorial begins by stating that 'everything has been said about her' already, it doesn't actually unearth any new ground. Saying that, the fact that Kim banned any talk of 'sex tapes, books, record, videos, films and above all marriages and divorces,' surely didn't help.

On her privileged beginnings and building her empire:

'Yes I was born rich; it was a classic Californian lineage: lavishness and ostentation, luxury mansions with pools, private clubs, exclusive friendships, and luxury cars. Despite the affluence, at only 31 I've been able to build my own empire in the world of entertainment and, although looks and friendships are important, I want the new generation to understand that if you don't believe in yourself and in your own ideas, you go nowhere.'

On her relationship with Kanye West:

'Everyone is always watching me, I'm under constant observation, everywhere I go there's a camera following me, in the gym, when I do the shopping, and if I decide to go out without make-up it makes news throughout the world. This is why I don't want to reveal anything about my relationship with Kanye. In the past I suffered a lot because of my honesty, and when it didn't work I was criticized and treated badly: I can only say that now, with him, I'm happy.'
On religion, sex and food:

'I would have liked to be a teacher, I always say prayers before going to bed, I would have liked to spend more time with my dad and speak with my fans. I adore pizza, gelato, and I like making love, I hate cilantro, I have a collection of 224 pairs of Louboutin and I'm scared to death of spiders.'