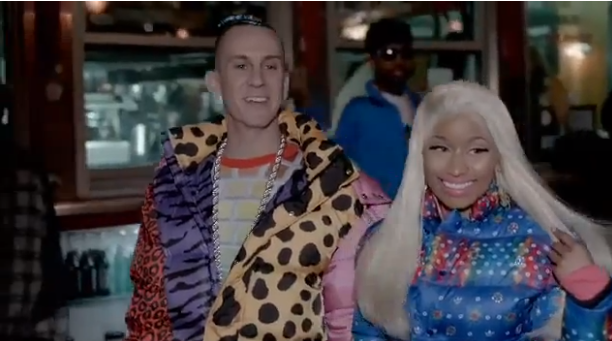 Adidas aren't strangers to using celebrities in their TV commercials. In the past the sportwear mega brand has enlisted everyone from Katy Perry and David Beckham to longtime collaborator, Missy Elliott and for their new commercial, the line-up has had a shake-up.
The main stars are Nicki Minaj and designer Jeremy Scott, as well as people like Sky Ferreira and rapper Big Sean. According to the release, the commercial, titled 'All Originals Represent', 'zooms in to the sidewalks across the globe, showing the creative spirit from New York to Tokyo and from Paris to Rio De Janeiro.' To support the campaign, Adidas have gone all interactive by allowing customers to go to their website and 'reprrsent what they're all about, as individuals and as part of a bigger whole - their crew.' According to Fashionista, fans will then be able to vote their favourite individuals or crews in each given country.
Their decision to partner with Minaj makes sense as she generally fits into the type of artist that they work with but more interesting is the fact that they used Scott. While the designer has worked closely with the brand for several years, many thought he would be dropped from the commercial after the controversy surrounding the JS Roundhouse Mids trainers that he designed for them. Clearly all is well with them after all.