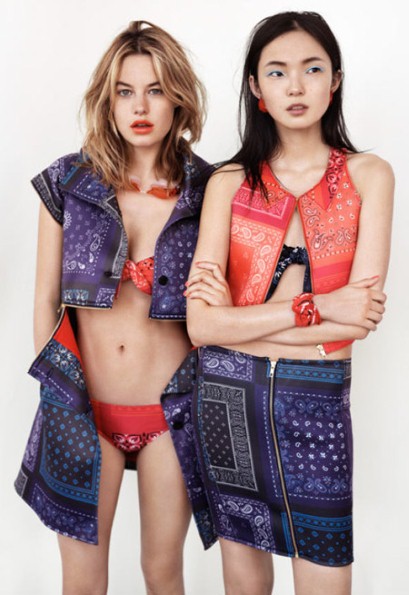 To say that I'm excited for the Opening Ceremony pop-up shop to hit London's Covent Garden is quite the understatement. When the news broke back in April, co-founders Humberto Leon and Carol Lim confirmed that the timing of the launch was a deliberate step to tie in with the Olympics. What we didn't know then is that their interest in this year's games doesn't end there.
Yesterday the New York store released this first image of a collaboration they've been working on with Adidas. The preview shows a glimpse of a unique collection of Olympic-inspired pieces that they will released to help celebrate the Games. The line reportedly features everything from printed swimwear to blazers and jelly sandals and will be available in the pop-up store when it opens on July 19.
So far the collection doesn't look too bad. How it takes inspiration from the Olympics, though, isn't clear. Aside from that, the partnership is definitely a surprise. Adidas has been working with Stella McCartney over the past years on creating loungewear inspired by the Games and official kit, so the decision to partner with another fashion company on a similar concept is interesting.
Are you a fan?