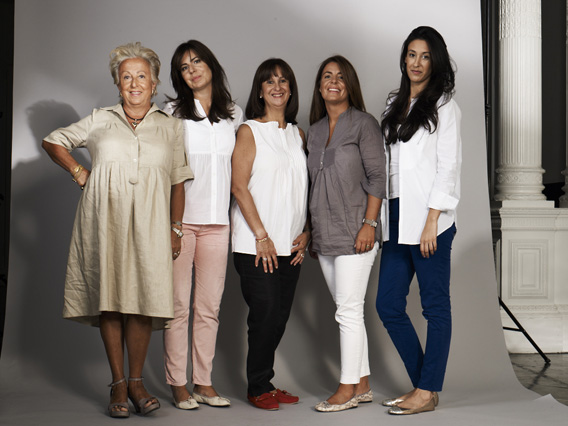 As far as lingerie brands go, we all know of Agent Provocateur and La Perla but not many of you would have heard of Lingerie D'Elia. Well that's, of course, if you're not amongst the group of Middle Eastern and American women in the know who, over the years, have taken to flying to the flagship store in Rome to stock up on their latest collections.
While the aforementioned brands continue to set the tone for the lingerie market, Lingerie D'Elia still manages to stand out for many reasons. The brand is small - but on purpose. Rather than following other labels that have sought to expand quickly whilst sadly falling victim to becoming overexposed, the company continues to be run on the premise that offering something niche and specialised isn't actually a bad thing.
The company, which was started in 1983, was the birth child of Carmen and Rosa D'Elia who arrived in Italy after spending their childhood in Argentina spent surrounded by fabrics and design owed to their tailor father. Over the last thirty years they have gained a reputation for delivery timeless silks in styles ranging from 1930s biased cut gowns and robes to camisoles that incorporate delicate ruched side ties and inserts of Florentine lace. Now, though, the company is in the creative hands of the second generation of the family, Lorenda D'Elia. While it's clear that the transition was part of a bigger plan to help the company appeal to a younger audience, don't be fooled. For Lorenda, it's still very much about embracing the traditions that the brand was founded on.
'My vision is definitely to continue the history but keep the company small and maintain the quality,' she enthused while talking me through the latest collection. For her that means staying in Florence and keeping the team tight knit. 'We're known for our lace and silk and Florence is the only place where you find people who know how to apply the lace on the silk.' She continued: 'Each piece usually has three people working on it and can take up to three weeks to produce and each team member is a specialist in the given area.' It's this focus on providing something special and unique that preserves Italian traditions that drives her. 'It keeps people working and for us, it's a way of keeps those traditions alive.'

And it shows. While the pieces are probably out of the price range for most especially at the moment, if money were no object you would definitely invest in a piece or two. And that's exactly what the pieces are - investments. Each season the collections tend to provide minor alternations to classic styles like a simple silk chemise with lace detailing across the chest, which might, for example, come in an ivory or lilac for spring rather than black. In today's world of trends and a constant quest for the 'new', their approach is actually quite refreshing.

But it's not all about keeping things classic. What Lorenda has done is update the shapes on offer to give the signature pieces a modern twist. Take for example, their classic chemise style. You can now get them with sexy racer back shorter styles that feel feminine but sensual and feel geered to being shown off than the more comfortable loungey styles.

Combining the new and the old is a delicate balancing act but considering the brand's increasingly strong following, it's one that's working well. 'One of our customers actually gave the pieces she wore for her wedding to her daughter who was getting married,' Lorendo told me. Having fallen in love with their pieces, sadly for my daughter, I'm not sure that I will be able to be as quite so giving.