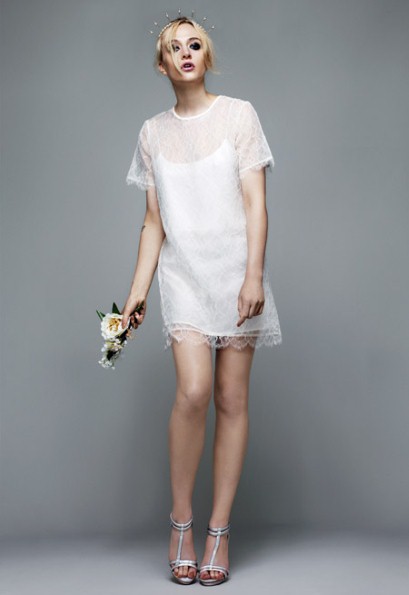 Topshop have been really busy. Last week they confirmed that they have partnered up with Louise Gray an a capsule collection and make-up range and recently they announced that they are teaming up with Richard Nicoll on a bridal collection. Buying your wedding dress from Topshop might seem strange on first thought but considering that the prices are accessible, it's undoubtedly going to do well and today, the first images of the collection dropped.
The range, which is priced from £75 to £350, features everything from simple slip dresses to a lace-bodiced gown. Unlike everything else in store though, these pieces will be limited edition with only 50 being produced in each colour way, which will go a long way in avoiding having just about everyone else having the same wedding dress as you.

If you were expecting something classic and traditional, you'll be disappointed because the pieces are far from that. 'I loved the idea of doing wedding dresses with Topshop because I wanted to offer a younger, cooler alternative to meringue culture, something special, but not precious, like my friends, something they would wear if they were getting married,' he told Telegraph Fashion. 'These pieces are perfect as party dresses too if you're not the marrying kind.' And it's true, they are different to the norm but I'm not convinced that that's a good thing in this case.

The line drops on Topshop.com, the Oxford Circus flagship store, Selfridges and Brompton Road store on June 15 and in New York, Chicago and Las Vegas on July 4.
Would you buy one?