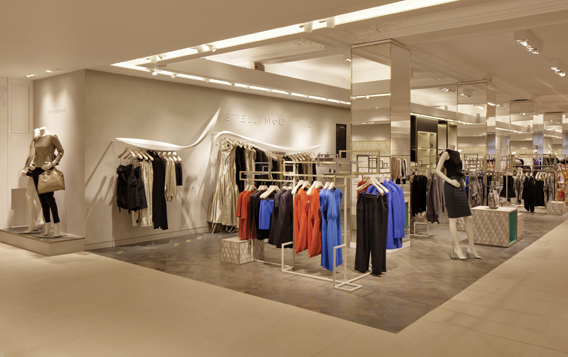 Back in March Stella McCartney opened the doors of her seventeenth freestanding store in London's Bromption Cross and this week she expanded on her department store presence by opening her first ready-to-wear and accessories wall concession in Harrods.
Located on the first floor in the International Designer Collection Rooms and the Luxury Accessories Hall on the ground floor, the interiors perfectly mirror the space in her flagship Bruton street store.

'Harrods is a very iconic store and it's a British institution, and I think Harrods is a great home for luxury and to be part of that is very exciting,' McCartney said in a statement. 'We are thrilled to welcome Stella McCartney to our line up of leading international designers,' Marigay McKee, Chief Merchant at the department store, said. 'The new boutique will allow our clients to indulge in Stella's exquisite signature style of sharp tailoring blended with femininity, which is both elegantly wearable and directional.'
Have you visited yet?