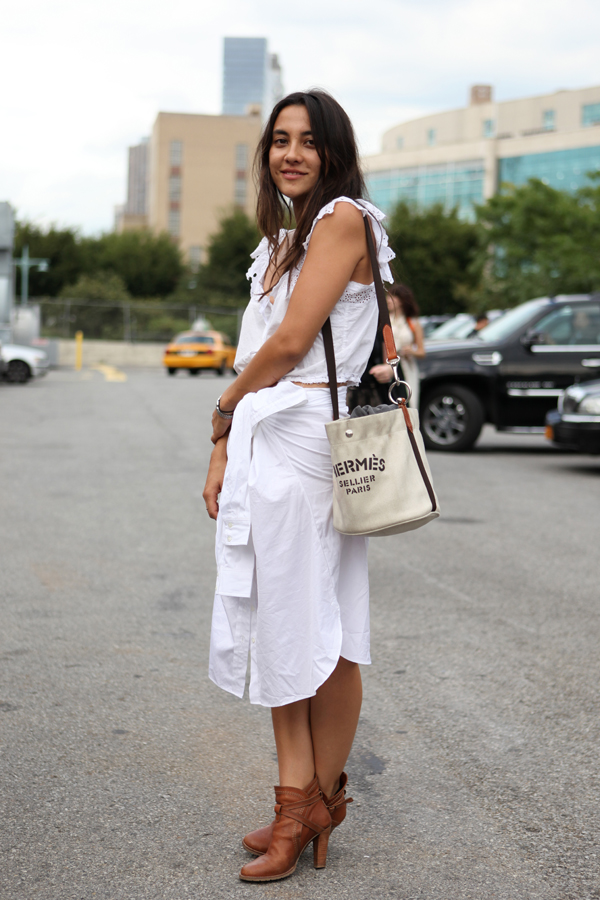 As fashion editors go Stevie Dance has always been one of my favourites. While she is a favourite amongst street style photographers, Dance is one of the few editors who is more known for her work than her own outfit choices. As much as I'm very pro the presence of editors on street style bloggers, Dance's relative anonymity has always been something I've admired.
In case you're unfamiliar with Dance, her styling work can be seen in magazines ranging from Vogue to V Magazine Spain but her main gig was when she served as editor-in-chief for Russh magazine in Australia. Now, though, she's shaking things up and has returned to her journalism roots (she majored in cinematography and journalism in college) and has just launched an online 'zine called Shop Ghost. Recently I wrote about her interview with Tommy Ton for the zine but aside from interviews, the features also include a round up of products that the given industry figure loves.
The Cut caught up with her recently to find out more about the site and what she's currently working on.
Tell us about your website, Shop Ghost
It launched last week. It's something I've been working on for a little while. And it just stems from the hobbies that I found myself and my friends [doing] ... in terms of, like, online browsing, you know? I just felt like everybody I knew at some point [during] their day was browsing online, in an almost hobby way — it was almost like instead of going to take a coffee break, it almost becomes like a time-out. It felt unedited, and I wanted to create a platform, I guess, that was interesting and gave cultural meaning to the way you want to spend your money.
A personal-style blog would have been an obvious choice for you. Why didn't you want to do something like that?
At the end of the day, my training is in journalism. I originally thought I was going to be a film critic — never something in fashion. But it's like, the idea at the source of it is to give people intentional reasons to invest in things. And I think that what other people have to say, and exploring other people's cultural habits and ethos and habitual shopping habits is far more interesting than what I'm wearing on a day-to-day basis ... I think that the fashion can be secondary ... I can inject my feelings into the site, but it's also about, I think, giving a platform to other people's ideas.
There's such an interest now in personal-style bloggers.
There is. I mean, I think the fashion industry and fashion itself has always been a really voyeuristic field. But I think in 2012 there's so much interest in "behind the scenes" on everything. You can't go a day without somebody Instagram-ing you a picture of something insignificant, and I think the fashion world has obviously taken that onboard. Personal style is interesting. I think when it's organic and it's really honest, it's amazing. It's a great source of inspiration for people, the way they use different ingredients to express themselves. I think at the moment, street-style has become quite editorial-based. It feels really editorial.