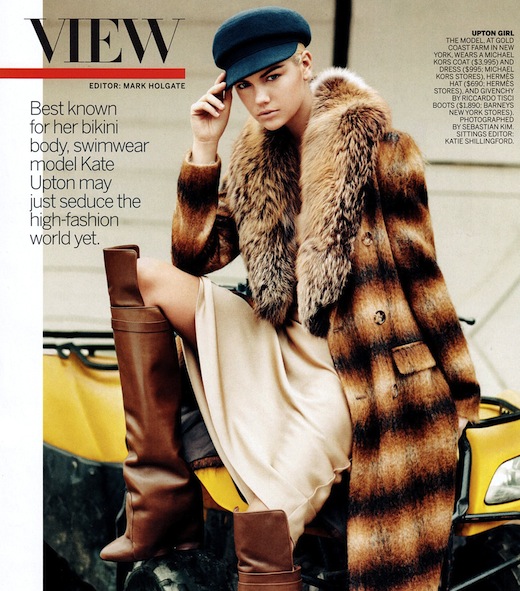 Last week Kate Upton's GQ cover dropped but it was actually her profile in US Vogue's July issue that has everyone talking. The model, most known for that infamous 'Cat Daddy' video, has desperately been trying to crack the fashion industry so the feature was undoubtedly a step in the right direction for her. Whether that's a good thing or not, I'm not sure.
Rather than going down the obvious route and styling her in swimwear, Upton looks transformed and completely covered up sporting an Altuzarra coat, knee high boots and a dress that reveled just a flash of her knees.

It is in fact those two deeply abbreviated swaths of fabric on which Upton's not inconsiderable fame rests, which might make you think that this Sports Illustrated cover girl, almost always photographed nearly naked, is not exactly the ideal customer for Altuzarra's cuddly coat.
In recent interviews the model hasn't shied away from the fact that she wants to walk the runway for the big brands, and it looks like the magazine things that that isn't actually as far-fetched as people like Sophia Neophitou would think.
The embracing of a voluptuous woman on a catwalk is not without precedent — curvaceous luminaries such as Miranda Kerr and Doutzen Kroes have managed to traverse the territory between Victoria's Secret Angels and devilishly high-flying runways (Prada, Louis Vuitton) with ease. Now it could well be Upton's turn.
Michael Kors would seemingly agree. In the piece he argues that designers aren't as against the idea of booking a swimwear model to walk in their shows as they were before:

Upton admits that she really wants to do a big, glamorous ad campaign, maybe even more than she fantasizes about the catwalk, and Kors says gently, "The runway is ultimate casting for designers and editors." She hangs on his every remark as if committing each word to memory. "I think we have a new generation of designers who don't understand why a Sports Illustrated model can't be in the mix. I do think the old rules are tumbling," he tells her. Then he looks into her eager face and muses that once in a while a really special girl —  maybe just like her! — comes along.
Are you a fan of Upton's and do you think she'll ever get her runway moment?