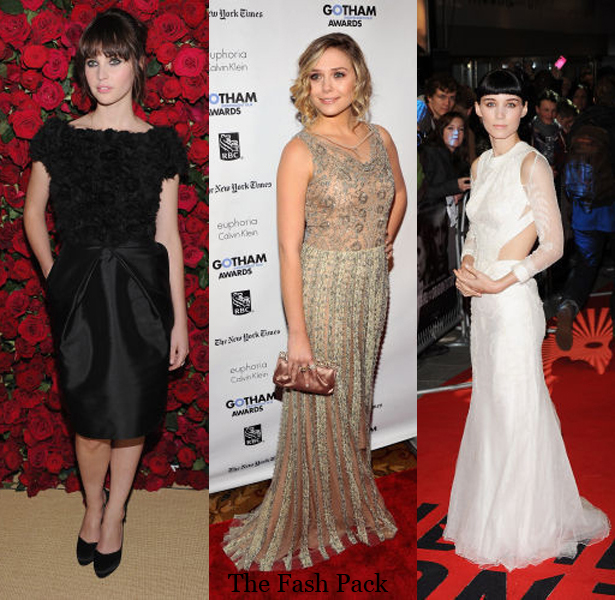 Felicity Jones, Elizabeth Olsen, Rooney Mara
The big award shows are where style stars are born - fact. 2011 marked the first time that we seriously stood up and paid attention to Jennifer Lawrence. That navy Louis Vuitton gown she wore to the Golden Globes was unconventional but worked, the hot pink Oscar de la Renta dress she wore to the SAG awards definitely made a statement and of course, nobody can forget the red Calvin Klein creation that she wore to the Oscars. Having got it right at all three big awards ceremonies, Lawrence seemed to explode this year and the same is true of Hailee Steinfeld.
With that said, all eyes are on Rooney Mara, Elizabeth Olsen and Felicity Jones for the coming awards. All three got it right in one way or another in 2011 but none have had a big red carpet moment. While Olsen should be the front runner simply because, well, she's an Olsen, my money is on Mara. Her recent choices for the promotional tour of 'The Girl With The Dragon Tattoo' have worked perfectly and her slightly dark and brooding aesthetic makes me think that she'll be brave and do something interesting and different this award season. In the last few weeks she's worn Givenchy twice and something makes me think that Tisci will be the designer of choice for her big Oscar moment and the partnership would make sense. The Tisci for Givenchy woman is always sexy but in a dark romantic way and that's Mara all over.
What do you think?