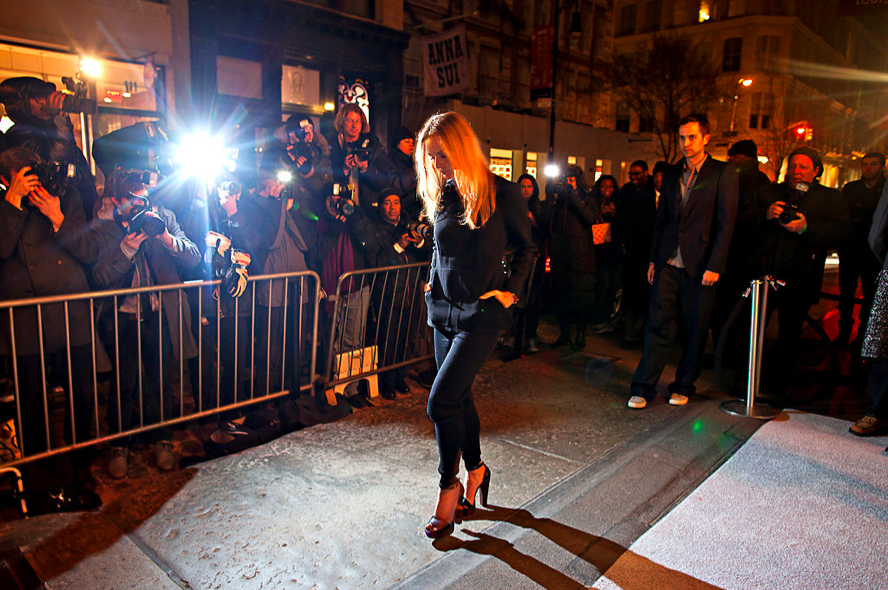 Image via The New York Times
We're not even half way through 2012 and the year has already proved a big one for Stella McCartney. Already this year she has celebrated turning 40 years-old, although you would never guess from seeing her in the flesh, and it also marks the 10th anniversary of her label. Not bad for a designer who was initially snubbed by the fashion industry and publicly criticised by Karl Lagerfeld after she was announced as his successor at Chloé back in 1997. 'I think they should have taken a big fashion name,' he said at the time. 'They did, but in music, not fashion.'
Despite the initial criticism, McCartney couldn't be doing any better right now. According to the most recent reports, profits at her brand are up by 4.4% and her freestanding stores internationally now tally up at around 24 including her amazing new Brompton Cross space which houses all of her lines including her much loved kidswear collection - and that's not all. Back in 2010 she was announced as the first fashion designer charged with creating the Olympics kit for the British team.
It's not difficult to understand why she's doing so well. At the moment we're lucky enough to have a group of female designers who are creating pieces that are stylish yet practical and comfortable. The recession has been a big catalyst in the current interest in the functionality of clothes but this is something that McCartney has always done. Along with designers like Phoebe Philo, who worked under her at Chloé, Stella really is leading the pack. Her pyjama-style pieces have quickly become the go-to items for the fashion pack and and her tailoring has a sacred place in the wardrobe's of every woman with the money to foot the bill.
The same principles apply with her range at Adidas. Forget about working out in those free t-shirts that you get with magazines, she told me recently. Great technology in sportswear isn't just for men and why not look great while breaking into a sweat - and I agree. At the big unveiling of the kit recently she explained that style was a conscious factor on her mind when designing the collection. The athletes will perform well when they feel comfortable and confident in what they are wearing she said, a sentiment which is responsible for her vast number of die hard followers.

It's this partnership that has been the big focus for her this year and you can't underestimate the magnitude of the task. While it has been two years since she was announced as the creative director of the TeamGB Olympics kit, that hasn't been a long time if you consider what has been asked of her. With more that 200 pieces to create include the performance wear and the Olympic village loungewear and the whole world looking on especially since the event will be hosted in Britain, to say that she has been under the microscope is quite an understatement.
Since the controversy surrounding John Galliano began last year and Christophe Decarnin's departure from Balmain after admitting himself to rehab, much has been said about the pressure that designers are under today. Gone are the days when it was all about the creative process and simply producing two shows a year. Now designers are expected to produce pre-fall and resort collections alongside accessories and other product categories as well as being packaged off as celebrities. When it comes to being in the spotlight, though, this isn't something new to McCartney despite the fact that she is charmingly unaware of her own celebrity. 'I only do fashion-related press so people outside of that don't know who I am or recognise me,' she said, although nobody in the room believed her. When it comes to the pressure, she takes it completely in her stride. What quickly become apparent after spending a little bit of time with her is that she has a very close knit team, to which she referred to throughout the interview. One team member in particular sat in on the interview and could very comfortably finish the designer's sentences and would often jump in and remind her what season they are currently working on or disclose other interesting facts about what they're up to.
And they're up to a lot. The Olympics kit is out and we all know what it looks like but we still have the big event to look forward to a McCartney will no doubt still be working with Adidas on the range in the run up to the event and just in case she's not to busy with that, naturally she's already working on the next collection for her mainline. All in a day's work....