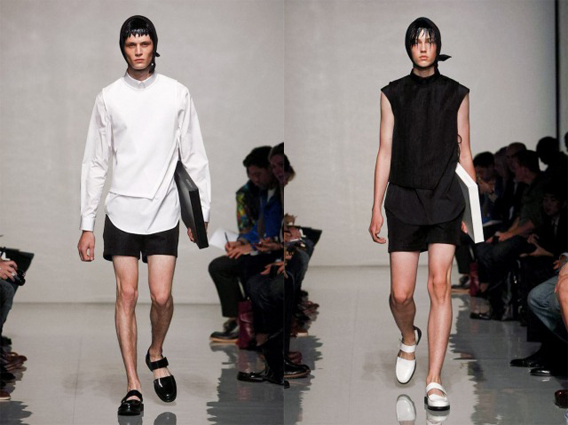 With the success of his womenswear line and that upcoming collaboration with Topshop on everyone's minds, you'll be forgiven for forgetting that JW Anderson started as a menswear designer. It's only relatively recently that he was so kind as to offer something for us female fans of the brand desperate to get in on the action.
For S/S13 he definitely made sure that his menswear offerings stand out and don't fall into the shadows. As always the collection isn't for the faint hearted. Take the series of teddy bear printed t-shirts that he showed. While it's more than likely that they will go down well at retail, it definitely takes a certain man to dare to wear them. The same is true for a hot pink asymmetric blazer that came styled Lady Gaga-style without anything underneath.
It's with pieces like these that Anderson sometimes goes down a more effeminate route but that being said, he always manages to reign it in and not go too far so as to alienate his more cautious customer. Besides, the collection featured enough core staple pieces like tailored trousers (and bell bottoms!) and ribbed knits to make sure that all bases are covered next season.