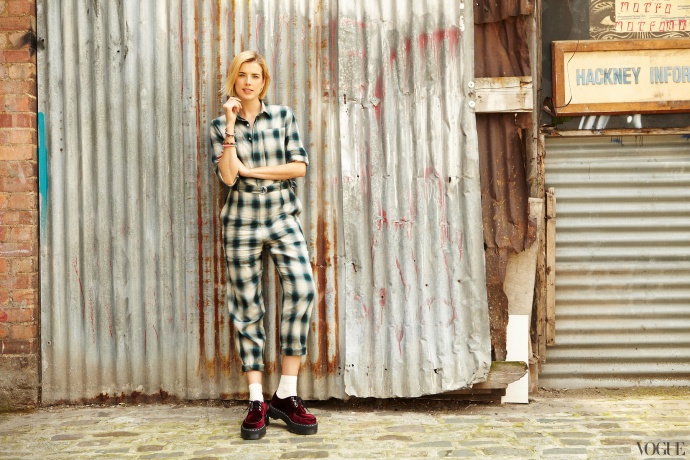 Image via Vogue

Agyness Deyn has been a bit MIA in the fashion world recently. The model has been busy working away on establishing herself as an actress, not to mention not so secretly tying the knot with 'Friends' star Giovanni Ribisi. That's about to change, though, as her debut design effort for Dr. Marten is about to launch.
The collection, inspired by nineties grunge power couples like Winona Ryder and Johnny Depp, is extensive and includes clothing alongside the expect range of accessories and footwear. Expect parka jackets with bright orange lining, daisy prints on button-up dresses, checked shirts and a good dose of feminine lace to break things up.
'I have always had a really intense relationship with Dr. Martens, right from my first pair back when I was 13, which I bought as a combination of showing that I wanted to rebel against my parents and they were the coolest boots that I could get away with wearing to school which stood for something that gave me my own stamp of originality,' Deyn said in a statement when the news of the partnership was announced. And it's true. Over the years we've seen a fair share of head scratching partnerships between models/celebrities and brands but this one makes sense, which will no doubt shine through in the collection.
To celebrate the launch, Deyn and Dr. Martens have created a special film to showcase the collection, which sees the model hang out with friends in California and the cliché 'rebel' things like grafting walls and jumping into a swimming pool fully clothed. That aside, I'm actually pretty excited about this one.
Are you?