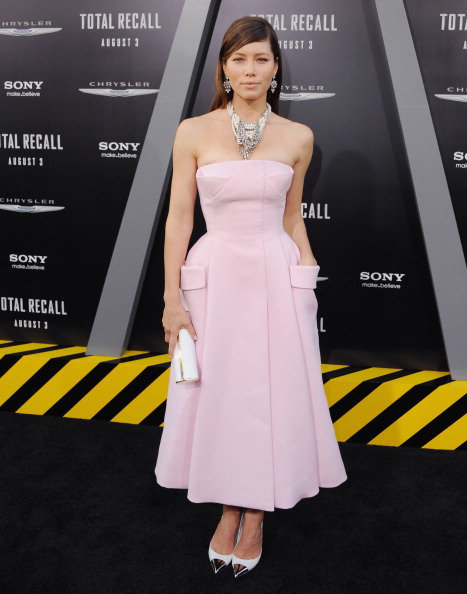 Jessica Biel at the L.A. premiere of 'Total Recall'
In a recent piece for the New York Times, Cathy Horyn spoke to Karl Lagerfeld about dressing celebrities in the couture collections. As you'll recall, he made the interesting point that couture 'is not a red-carpet opportunity' and in some cases results in 'clients cancel[ing] an order after seeing their dress on a celebrity.' So with that being said, it's interesting to watch which celebrities Dior have allowed to wear Raf Simons' couture debut on the red carpet.
The latest star to get the opportunity is Jessica Biel, who follows in the footsteps of Marion Cotillard and Rachel Weisz, and the choice is interesting. All three women are major A-listers, which was no doubt was a deliberate step by the brand to avoid the types of problem Lagerfeld noted in the article.
And it's exciting. After the whole John Galliano you were hard pressed to find an A-lister wearing the ready-to-wear collection let alone couture collection on the red carpet besides their spokeswomen like Charlize Theron and Mila Kunis, so it's good to see the brand dominate and absolutely nail it on the red carpet again. And something telling me that after seeing all three actresses wear pieces from the collection, those women with pockets deep enough to pay those heavy prices will be lining up to buy them.