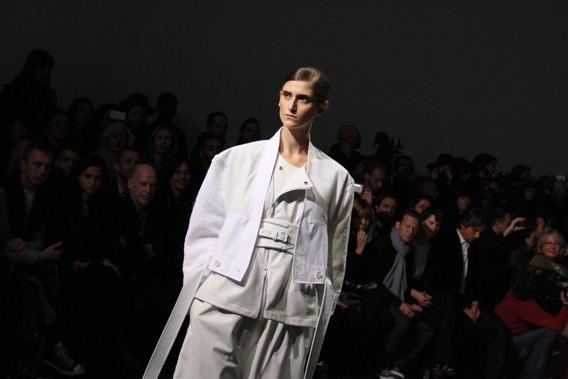 All images by Naomi Mdudu/The Fash Pack
Damir Doma is one of those young designers showing in Paris that you know will be around in years to come. Since establishing his label back in 2011, he's tapped into the dark but romantic aesthetic that has seen customers flocking to the likes of Ann Demuelemeester for years and this season felt like his eureka moment. While his past collection have shown promise, there's always been something missing but for S/S13 it seemed like he'd reflected on this and really narrowed in on what his customer wants.
The clothes were good, really good. Following on from his exploration with his current penchant for the feminine form, just about everything came with an emphasis on the waist: high waisted silk slouched pants, leather dresses and even bomber jackets. Like many designers, Doma was interested in proportions too, particularly on outerwear, which were, by far, some of the strongest pieces in the collection.
Another strong development this season was the colour palette. His usual muted palette of white and black were there but this season he introduced emerald blue and green tones on silks that had more than a bit of a Haider Ackermann twist about them, which isn't necessarily bad thing considering that the designer has been heralded as one of the best colourists since Yves Saint Laurent.
More than anything, the collection was the epitome of practicality and tapped into this new concern for fuctionality. With that in mind, clutch bags were oversized to make sure that you can fit all of your essentials in and while he decided to carry on with heels, they were sturdy and definitely a departure from the styles we've become accustomed to. The loose fit of the trousers and the oversized proportions too, will definitely go down a treat with his fan base and will no doubt get his some new fans too.