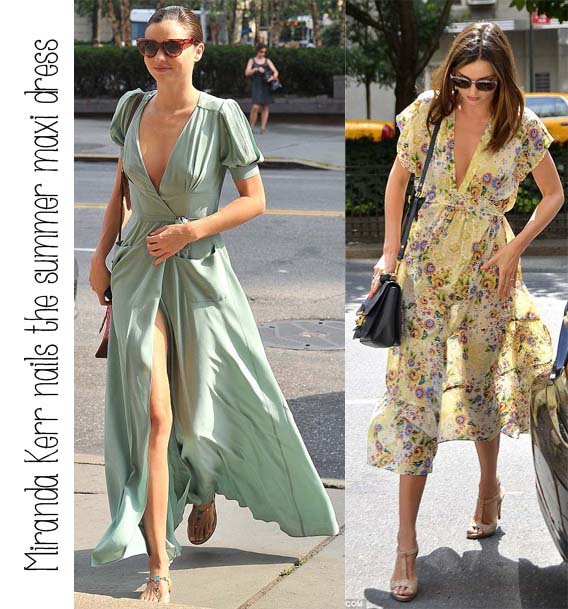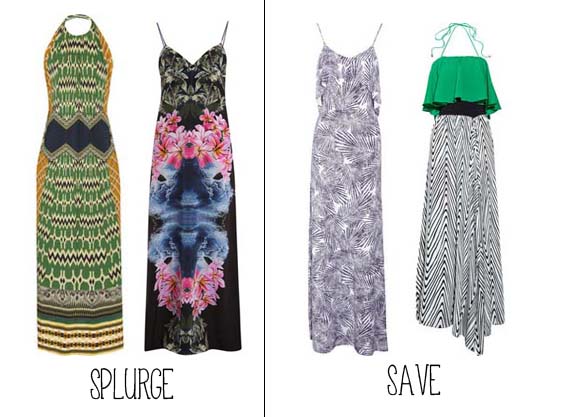 SHOP THE EDIT: Halter neck dress, £886.25, Etro; Hawaian Gwen dress, £398, Stella McCartney; Printed maxi, £103.50, Tart; Jersey maxi dress, £92.50, T-Bags
Maxi dresses are a wardrobe staple - fact. Considering their prominent role in taking us through the summer, it's become hard to remember a time where we all considered their resurgence as just another fleeting trend. On the whole, it's not hard to understand why we've all become so taken by them. They're easy to throw on and like any other dress, it helps avoid the daily conundrum of finding something else to go with it but saying that, it's not always an easy task finding the right one. 
This week, though, Miranda Kerr gave us a lesson in how to wear them well. On one day she stepped out in New York sporting a mint block coloured wrap around style. The thigh high slit instantly made the dress as suitable for the day as it would be in the evening simply teamed with heels rather than sandals. The block colours means you can go to town with prints and interesting details on your accessories like Kerr did with her printed bag and printed Stella McCartney sunglasses.
Later on in the week she sported an uber feminine yellow printed sheer dress. The lightweight fabric works particularly well on those really hot days (where they are I still don't know) and is the perfect style for the daytime, teamed with relaxed and neutral accessories like Kerr's simple nude Mary-Janes.