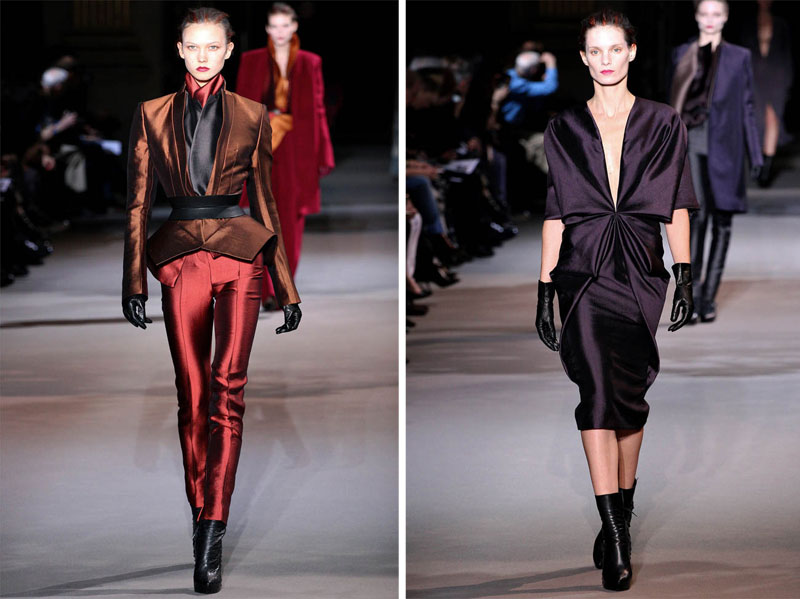 Haider Ackermann has long been recognised for creating beautiful clothes but this season, rather than being admired from afar he showed pieces that are ready to be worn. He took the issue on board this season and with great results

In Ackermann's world, accessibility does not mean compromising on beauty and craftsmanship. As always, the beauty of the collection was in the 360 degree details whether that be a subtle draping on the top of a classic long sleeved maxi dress or the intricate pleats and darting on the back of jackets. The simple maxi dresses and skirts teamed with great motorcycle jackets will no doubt go down a treat with buyers and unlike his past work, this collection felt like a complete wardrobe. It wasn't just about his killer tailoring on jackets. This collection was full of great trousers like a high waisted wide leg pair, pieces like a signature black over-the-knee length dress with a subtle plunge neck which was as sensual as it was powerful and a good selection of knits that would be a welcomed addition to any woman's wardrobe.
But don't worry - the Ackermann signatures were there. His use of colour continues to be second to none and this season's offerings were inspired by the leaves falling outside his Antwerp home and translated onto pumpkin tones and deep reds alongside rich purples and royal blue. His signature peplum silhouette was there too and came in either heavy leather styles or with the thick black leather belts that have come synonymous with his brand. Despite this being a big trend this season, Ackermann's take on the style cannot be rivalled.