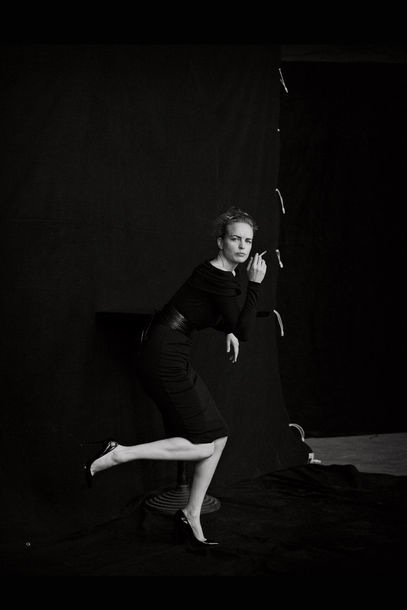 Peter Lindbergh/Vogue Germany
Vogue recently made the headlines but for all of the right reasons. All of the international editions of the magazine agreed to dedicate their June issues to health and so far so good. British Vogue showed Kate Moss as an Olympian, American Vogue put three athletes on the cover and Vogue Paris showed off Gisele's body in all of it's glory. Vogue Germany, on the other hand, are under fire for not completely following through.
The magazine features an editorial shot by Peter Lindbergh called 'The Naked Truth', which sees 'powerful women' like Nina Hoss, Donata Wenders and Nadja Auermann without make-up or retouching. The black-and-white shoot is undeniably strong and feels like a breath of fresh air from the overzealous retouching we've sadly become accustomed to. The source of the controversy comes from the shot of Nina Hoss who appears smoking a cigarette.
So far the opinions on the issue are split. Some say that the magazine should be applauded for taking such a strong stride in the right direction with the lack of retouching and underweight models. Others haven't been so sympathetic and have slammed them for including one of the unhealthiest practices, which counteracts any positive steps they had taken.
What do you think?