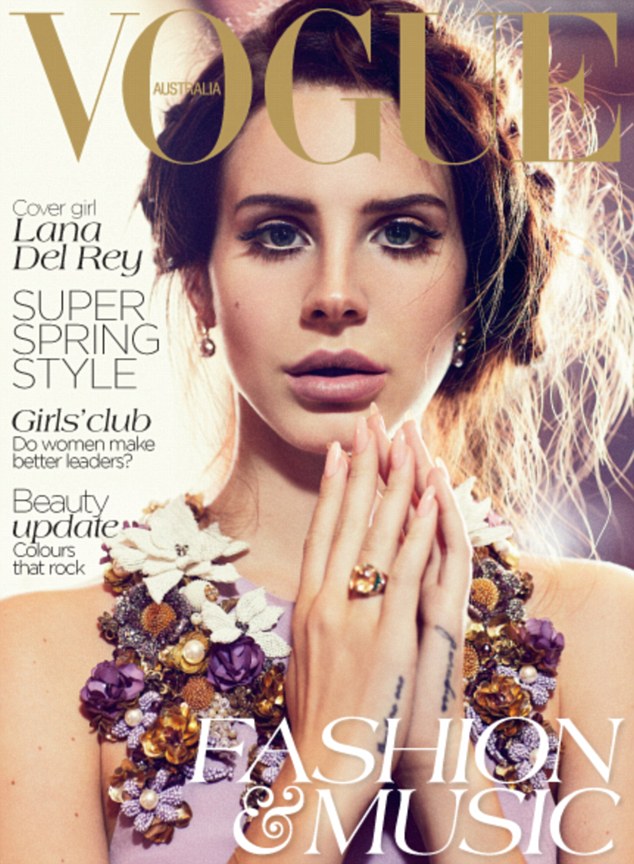 When Lana Del Rey launched onto the scene in a big way earlier on this year, it didn't come without its fair share of controversy. Her sudden catapult to fame made many question what she had done to warrant so much attention, especially as her music continued to go down badly with critics. The fashion industry, on the other hand, decided to embrace her with open arms and Mulberry created a bag in her honour. With that in mind, it should come as no surprise that her relationship with the fashion industry was one of the key areas of discussion in her cover interview for Vogue Australia's October issue.
'It's funny because now people in fashion kind of came to my rescue when other people said they didn't like the record but that was unexpected for me because I was never really [into fashion],' she told the title. 'I never expressed myself through fashion. I loved flowers in my hair. I loved guys who wore leather but I didn't get creative. From the age of about seven I had really specific tastes and that never changed.' What is set to change, though, is her career path because in the interview she confessed that music isn't actually where her heart is. 'When I was starting I had a vision of being a writer for film and that's what I am doing now. I'm so happy,' she explained. 'Hopefully I will branch into film and stay there. That will be my happy place,' she said before adding that, 'I said everything I needed to say before I wrote this record.'
Is it me or does the whole Lana Del Rey music thing suddenly feel a bit shortlived? I wonder how Mulberry feel, especially since they've done a lot to promote her bag. Surely it's not going to help sales now the singer's decided to go behind-the-scenes compared to the always visible Alexa Chung.