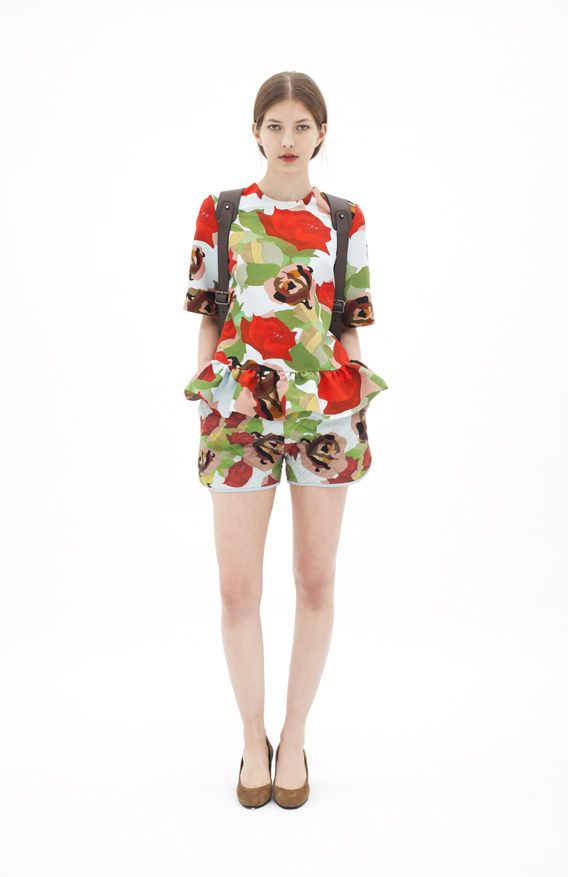 Mother of Pearl's Amy Powney and Maia Norman's decision to start producing resort collections was a good idea and is undoubtedly music to the ears of the cult following the brand has steadily gained. Unlike many other brands, Powney has managed to master the delicate balancing act of allowing customers to feel relaxed in the belief that the collections will always feature their signature elements, whilst also ensuring that there are enough new elements to keep our appetites satisfied.
The signature sportswear elements were there especially on a boxy grey parka with a contrasting pink leather hood, purple jogging pants and floral printed running sweaters. As expected, silhouettes were a focal point with Powney experimenting with peplums on tops and floor length dresses in a way that made a statement but without being fussy; and as always, they all came in the best quality fabrics. Peplums were everywhere for S/S12 but here they were not frilly and overly feminine. Instead they oozed an effortless, no-fuss feeling that they are quickly becoming synonymous with.
The new element came from their designer collaboration. Last season they teamed up with Fred Tomaselli on those hugely successfully bird prints but this time they worked with Gary Hume to incorporate his bold floral prints throughout.