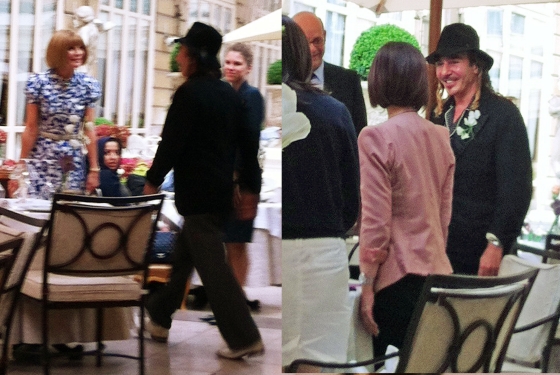 With Raf Simons showing his highly anticipated debut collection at Christian Dior this week, his name has scarcely been out of the headlines. What many didn't expect, though, was that Simons would be sharing the spotlight with the brand's former creative director, John Galliano.

Aside from one sighting shortly after his trial, Galliano has been pretty much incognito but this week an Instgram user, Albert Pang, uploaded an image of what look liked Anna Wintour dining with Galliano at the L'Espadon restaurant at the Ritz in Paris. What makes the photo even more interesting is that it revealed that the pair met up on the same day as Simons' Dior debut.
Pang told The Cut in an email:
[He] arrived alone and took a seat outdoor[s] where I was, and ordered a drink (not sure what drink, [I] couldn't see it [be]cause I was two tables away). The picture with a few people was someone from the table who knew Galliano, and they said hi. Then about 10 or 15 minutes later Anna Wintour came and she seemed very excited, with hurried steps to Galliano. If I remember correctly, they hugged. But I couldn't hear a thing. Then they moved indoors for dinner.
Does this mean that we might be planning a return? I sure hope so.