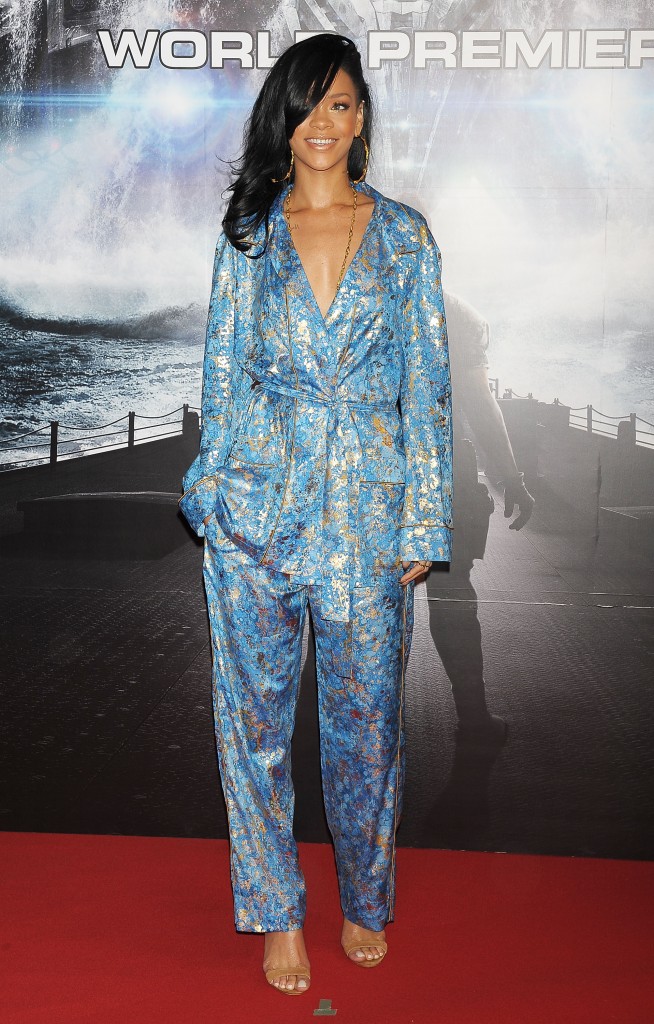 When Rihanna stepped out in this blue Emilio Pucci pyjama suit at a press call for her debut movie, 'Battlefield', she made a statement in two ways. Firstly, the singer's decision to sport the style on the red carpet showed that the trend that has been gaining pace and resonance over the past season has officially moved in the consciousness of the mainstream. More than anything else it proved that dressing, particularly for the red carpet, doesn't need to mean that comfort must go out of the window.
It's this feeling that Stella McCartney developed last season at her S/S12 show. After all, it was her relaxed silk pyjama styles that started the current fascination with the style. Since showing that collection brands like Balmain and Celine have tapped into it with their respective pre-fall collections and according to the Guardian, the high street are lapping it up too. Whistles, H&M and Topshop have all reported that the trousers are proving a hit in their stores and are selling out fast.
As someone who spends the majority of my writing time in comfortable clothes sat in my home office, the idea of working in something that felt as comfortable as pyjamas without being the real thing, was an instant draw. But the big question is how did this new found love for comfort happen especially in an industry where most women are glutton for punishment when it comes to their sartorial choices? After all, there is a reason why people are touting it as the most unlikely trend of the season. In my noble opinion I think it is a sign of big changes. A few years ago we were all in the thick of Balmain fever where everything was about the bling, the sequins, the shoulders and the equally garish and ultra mini dresses but over the past few season things have changed. With the economy as it is, our clothes are one thing that we can't afford to be restricted by or worry about and as McCartney continues to prove, comfort and fashion are not diametrically opposing notions. But that's not it. As many retailers have noticed, the great thing about them is that transcend generations. Unlike season past where the pieces would look strange on anyone above a size 10 and on beyond the tender 20s bracket, this look is resonating with women of all shapes and sizes.
So the only question now is will you sport the style this season?

See our favourite budget friendly and investment buys after the jump