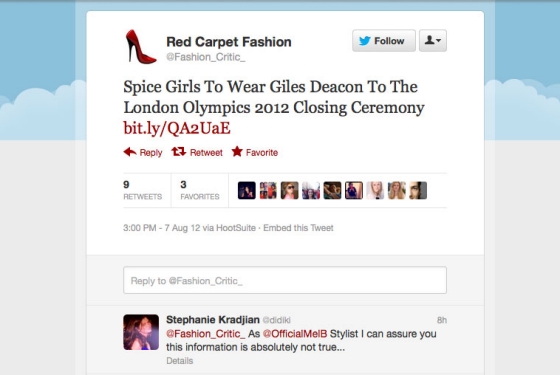 When Victoria Beckham recently tweeted that she was being fitted by Giles Deacon shortly after posting an image of a microphone, people naturally assumed that the fitting was for The Spice Girls' opening ceremony outfits. It looks like we were all wrong, or at least that's what Mel B's stylist Stephanie Kradjian wants us to think.
Today the stylist took to twitter to respond to the rumours, saying that the reports are false. '@Fashion_Critic_ As @OfficialMelB Stylist I can assure this information is absolutely not true...' she tweeted but that doesn't mean that we should dismiss the reports altogether. After all, this wouldn't be the first time I stylist tried to throw us off the scent.
Do you want to see the girls wear Giles on the weekend?