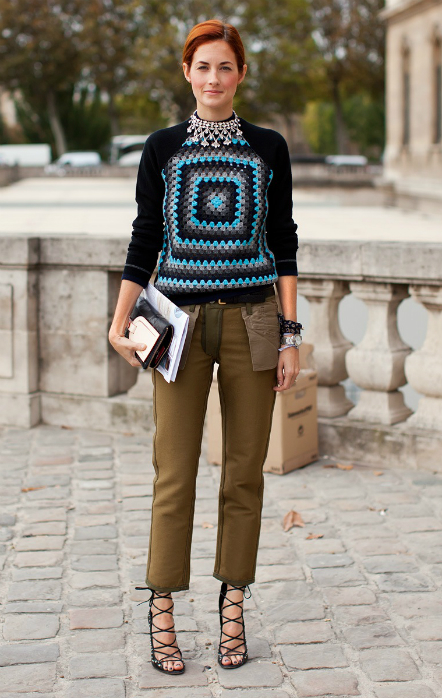 Taylor Tomasi Hill
The sweater is one of those wardrobe heroes that everyone needs. It's one of the few pieces that can stand you in good stead whatever the weather and over the past few years, it's hard quite the transformation. In the past, it had a bit of a bad wrap. The styles felt heavy, boardering on frumpy, and the colours didn't tend to extend too far beyond neutrals like black, grey and nude. The more recent variations, though, are really good.
3.1. Phillip Lim's comic-inspired sweaters got everyone excited for S/S12 and while his offerings for fall are a lot more subdued, they're definitely still something to keep an eye out for. Even Burberry experimented with sweaters this season with their fun owl embroidered options.
As far as colours are concerned, Sonia Rykiel, Missoni and Marni have great bright printed styles while Acne continues to lead the pack with their bright block coloured pieces. If you don't want to spend too much, J. Crew is the place to go. The colour ways and print options are extensive and the quality hold out from season to season. The moral of the story is that you don't need to conform this winter. Just as colour and prints have been for summer, there's no reason why you can't continue it for winter on your knitwear. Who knows, it might actually make you smile and with the British weather the way it is, that's going to help.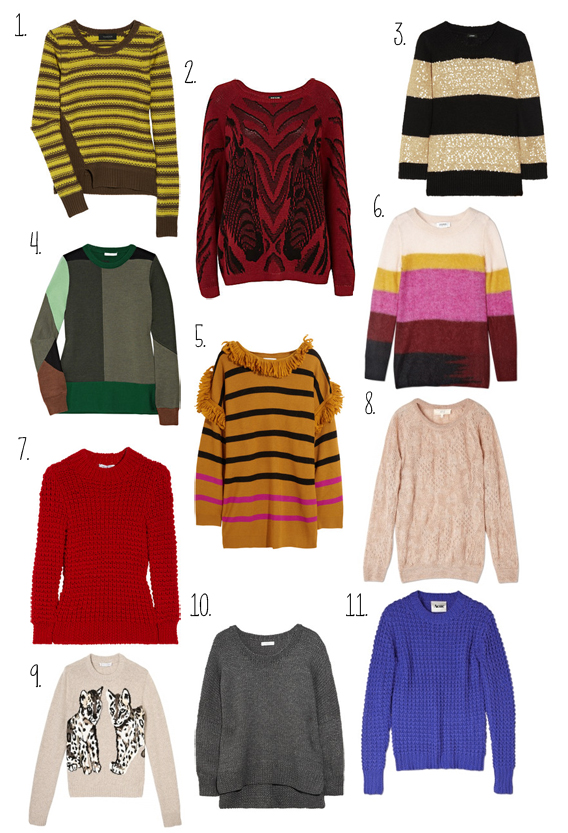 SHOP THE EDIT: 1. Cashmere blend sweater, £148.75, Thakoon at The Outnet; 2. Zebra print sweater, £35, River Island; 3. Sequin fine knit sweater, £45, J. Crew at The Outnet ; 4. Colour block sweater, £450, Chloe at The Outnet; 5. Merino wool sweater, £139.50, Sonia by Sonia Rykiel at The Outnet; 6. Mohair jumper, £175, Sonia by Sonia Rykiel at My-Wardrobe; 7. Chunky knit wool sweater, £105, Paul & Joe at The Outnet; 8. Lace mohair knit sweater, £220, Vanessa Bruno Athé at My-Wardrobe; 9. Cashmere knit jumper, £169, Paul & Joe Sister at My-Wardrobe; 10. Cotton blend sweater, £124.35, ADAM at The Outnet; 11. Open knit jumper, £190, ACNE at My-Wardrobe